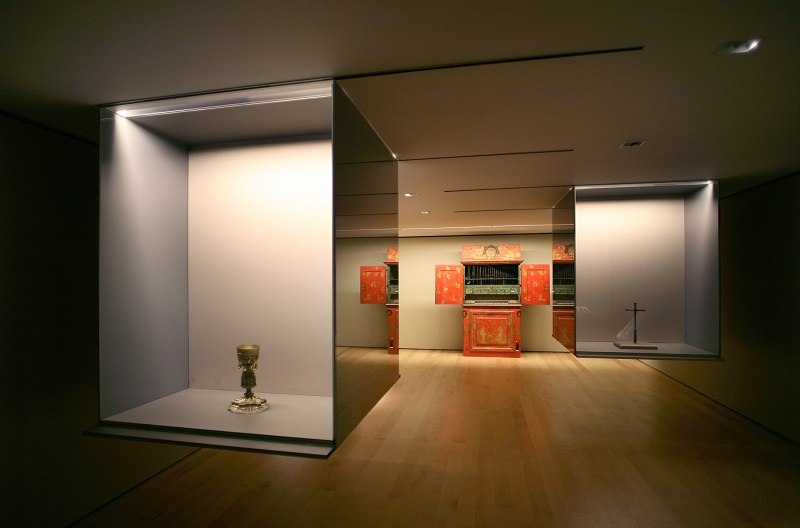 The Treasure-Museum of the Cathedral of Braga (Tesouro Museu da Sé Catedral) is located, since its foundation, in 1930, in the old House of Cabido (Casa do Cabido). Reopened to the public on the 30th March 2007, after the finishing of the requalifying and enlargement of the building works and the renovation of its permanent exposition. This renovation was probably one of the most radical operations that the Treasure-Museum suffered in all its history.
The permanent exposition "Roots of Eternity. Jesus Christ – A Church", dedicated to the sacred art, allows, through different groups, revisit the life of Jesus Christ and the History of the Church in Braga. This is told taking some archbishops as reference, since the V until the XX centuries. This lesson on Art History is complemented by the visit to the jewelry and vestments rooms.
The Treasure-Museum is the home of notable treasures. It has some of the most significant pieces to tell the History of the country, even before we were a nation. Some of its emblematic pieces are the Paleo-Christian grave (V-VI centuries), the Ivory Safe (1004-1008), or the Goblet (Cálice) and Paten of S. Geraldo (Patena de S. Geraldo) (XI century). But also others are identified whith the best that is preserved in its collections, like the sculpture of the Virgin of Leite (1515), the Portable Organ (1685) or the Miter and Gloves of the Archbishop D. Gonçalo Pereira (1326-1348). The last is considered unique in the religious vestments context in Portugal. Some pieces are real discoveries, like the liturgies shoes of the archbishop D. Rodrigo de Moura Teles (1704-1728), or the asterisk, very original piece, with a very practical function: not allowing the host to fly.