Braga is a two thousand year old city, which only acquired the city status in the year 16 b. C., in the context of the administrative reorganization carried out by Emperor Augustus in the north of Douro river. The city was re-dedicated to the Emperor taking on the name Bracara Augusta.
During the Flavian period, Bracara Augusta received the municipal statute and became seat of conventus, having performed administrative functions over a wide region. After Diocletian's reform, Braga became the capital of the new province of Gallaecia and in the fifth century the city was taken by the Swabians invaders who chose it as the capital of their kingdom.
The art of representing the city's coat of arms began in the Middle Age and these are the elements of Braga's Heraldry:
City's Coat of Arms – Scalloped Blue Shield.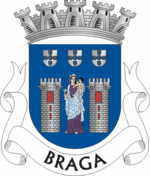 Our Lady, robed purple and cloaked celestial blue, crowned by a old silver crown, holding a lily proper in her right hand and infant Jesus in her left arm. She is flanked by two silver towers, masoned black with port and windows red, in chief three inescutcheons Portugal ancient, silver charged with five blue inescutcheons charged with five silver bezants each (quina). Silver mural crown with five visible towers and white scroll reading «Braga»
Municipal Flag - Blue and white with silver and blue beads and tassels. Gold rod and pole spear.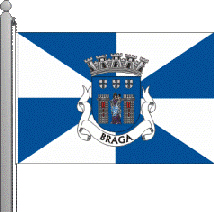 The flag must be rectangular (in a 2x3 proportion) or square, for respective uses in outdoor flagpoles or as a inner pennon or in a a parade.
The municipality's coat of arms must be at the centre of the flag.
Brief history about the flag use - The origin dates back to the Middle Age.
When the allied armies flew a piece of fabric as a banner with the identification colours and signs of the battalion or company involved, in order to prevent being confused between them. Thus they avoided the much feared friendly fire…